Advocates for Character and Education

The ACE (Advocates for Character and Education) Awards is an annual end of the school year banquet in which 70 male and female character and education award winners from all 35 Greenville County middle and high schools are recognized and honored. The selection process, established by Greenville County counselors, focuses on identifying and selecting at risk students as award winners. These students quite often are true "Unsung Heroes" who are comprised of students who have overcome tremendous odds to achieve wonderful things in their churches, schools, homes, or communities but have not been recognized for doing so.

Coaches 4 Character and Greenville County Schools partner, plan and manage the event which is all about the students and their character and education achievements. In addition to Greenville County Schools, Coaches 4 Character partners with the Greenville News, WYFF-4, and Greenville Health System to honor these deserving students.

The featured speaker delivers an inspirational message to the award winners, congratulating them and encouraging them to set lofty goals and to pursue their dreams. ACE Award winners are presented with medallions, programs, photos, and gift packages. Schools are given perpetual recognition plaques to commemorate the occasion and to motivate other students.

The focus of the ACE Awards Banquet is totally on the students and showcasing their good deeds. It is truly an "evening to remember" for these 70 "Unsung Heroes" and their families.
​

Presented By:
---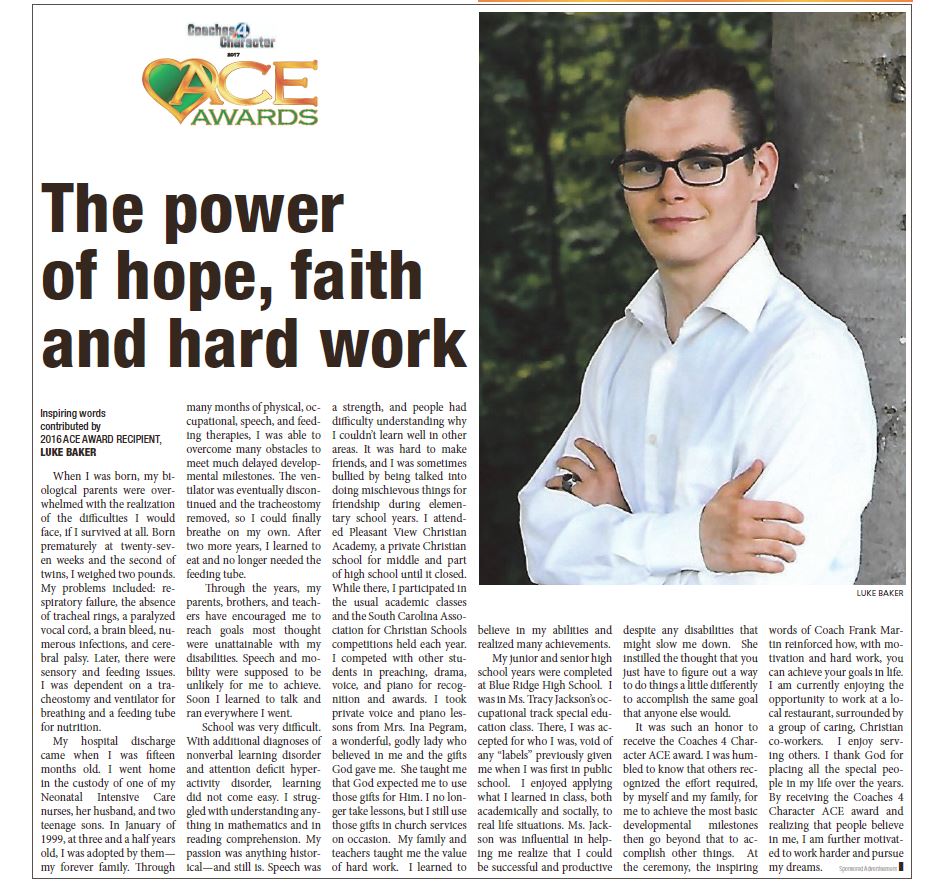 ---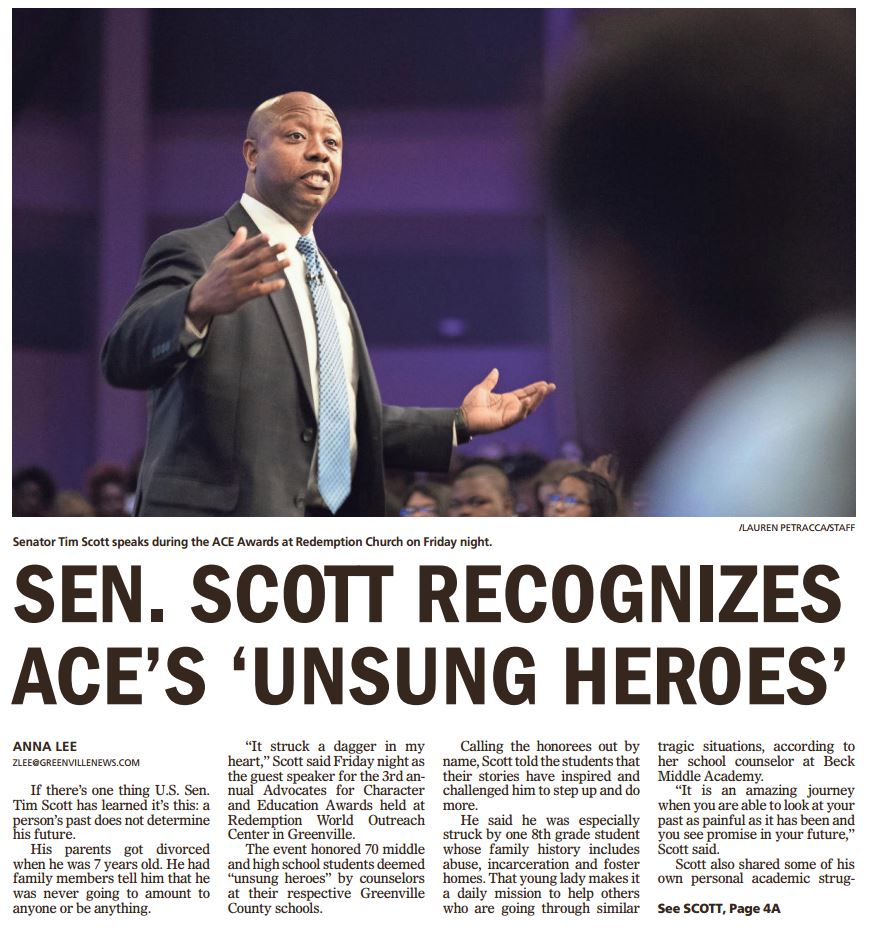 ---
Frank Martin Delivers Tough Message at Ace Awards
Mandrallius Robinson
May 17, 2016
​
University of South Carolina men's basketball coach Frank Martin has developed an expertise on toughness.

Not from his background as a nightclub bouncer in Miami, Florida. Not from the comeback victories he has directed from the bench. Martin asserted that he has learned toughness from his commitment as a husband and father.

"We can't call in sick to those jobs. You can't take a two-week vacation," Martin said with laugh Tuesday evening, to a crowd filled with some of the toughest students in Greenville County.

Martin affirmed the importance of consistent and persistent toughness as the guest speaker at the Coaches 4 Character Ace Awards. Sixty-eight students, from eighth graders to high school seniors, were honored as "Unsung Heroes" during a ceremony at Redemption. The students were recognized for their positive impact on classmates, teachers and counselors while overcoming personal challenges.

"When I was your age, I thought toughness was who could go out back and knock each other out. That's got nothing to do with toughness," Martin told the students. "Toughness is who's willing to do their job, who's willing to make those around them better, who's willing to put their personal feelings aside so they can help the group. That's what toughness is. And do it every single day regardless of how you feel."

Martin encouraged students to remain accountable to their dreams and to inhibit any detractor from persuading them to discount those dreams, regardless of how many mistakes they make or how many hardships they face. "Tonight's a celebration for their achievements," Martin said, "to let them understand as they continue to get older, they're going to have more challenges, not less challenges. Life gets more complicated the older you get, not simpler. Dealing with the initial challenges they've been hit with, them being able to overcome those to continue to strive and be great is going to help them deal with problems as they move forward.

"The important thing is we continue to celebrate their accomplishments to this moment and to let them know that our greatest duty as we get older is that we learn to give, not take. If we learn to give, we start impacting the world in a positive way." ​
---
Tim Worley Recognizes 'Unsung Heroes'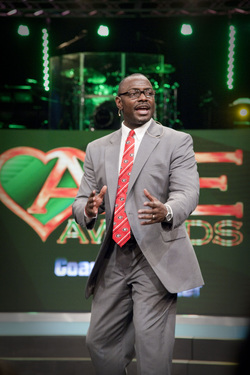 The video is easy to find on the Internet, and not flattering in any way, which is exactly why Tim Worley advertises its existence.
The video, dated April 13, 2008, shows Worley – the former University of Georgia and pro football star – being shot with a Taser and arrested by police in Smyrna, Georgia, following a daylong binge of drug and alcohol consumption.
"Promise me y'all will look at it," Worley told an attentive audience at the 2015 ACE Awards celebration Tuesday night at Greenville's Redemption World Outreach Center.
The incident was a watershed moment in Worley's life. He has since cleaned up his act and travels the country as a motivational speaker and life skills consultant.
Worley also serves as a chaplain at a rescue mission in Huntsville, Alabama, and host of his own radio show, "Beyond the Locker Room with Tim Worley: Where Sports Meets Life."
When sharing his story of recovery and fulfillment, Worley points to "unsung heroes" in his life, which was appropriate for Tuesday night's gathering, which honored 68 local high school students deemed "unsung heroes" by counselors at their respective Greenville County schools.
"The unsung heroes in my life were my mother and other people you don't hear about much," Worley said. "They kept pulling on my potential, they saw the things that God put in me."
Worley was a high school football and track standout at Lumberton High School in North Carolina before playing at Georgia and becoming the seventh overall selection of the 1989 NFL Draft.
He played six seasons with the Pittsburgh Steelers and Chicago Bears, but derailed his career with drug and alcohol abuse.
"I went from the penthouse to the outhouse with some of the decisions and choices I made," Worley said.
He wants others to avoid those pitfalls.
"I got favoritism, I got things I didn't really earn," Worley said.
Worley received "A" grades in school when he actually earned "Ds," he said, which only encouraged him to remain comfortably wrapped in his security blanket of the playing field.
"I took on an athletic identity," Worley said. "But when the cheering stopped, that was my only identity. I felt like I couldn't do anything else."
That, Worley eventually discovered, was a misconception that only he could correct. His arrest and subsequent 23 days in jail seven years ago helped open his eyes, providing the impetus for a rebirth that has altered his life's course.
Suddenly, he felt capable of much more, he said, and that "more" included being a good husband, having a positive impact on the lives of others, and spreading an inspirational message based on first-hand knowledge.
"One of my greatest fears in life was standing up and talking in front of a crowd," Worley said. "Now it's my passion."
That much was evident Tuesday night.
"You are my heroes," Worley said. "I honor you today, because you've been able to overcome and to make the grades and to stand out.
"There's nothing wrong with being a superstar athlete, but we don't always hear about the people who have overcome adversity, even though there might be chaos in their homes, and they're doing what they've got to do in the middle of the night to make those grades, to do what's right. You're not going to let anything stop you. I honor you young people.
"And to you young people who are here who aren't being recognized tonight? You're next."
By: Scott Keepfer --
Greenville Online
---
---
66 Students Honored for their ACE Work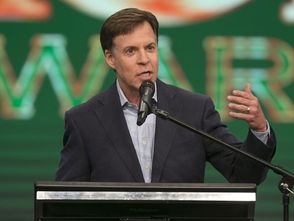 Greenville recognizes 66 students for accomplishing much in a quiet way against great odds. They truly are 'unsung heroes.'

May 23, 2014

Bob Costas of sports-announcing fame delivered a powerful message last week to a group of middle and high school students who are "unsung heroes" based on the description of the award they got. Most people know Costas because they tune in to the Olympics every four years or watch games for which he is the announcer.

Costas, one of the most decorated sports broadcasters of all times and the winner of 25 Emmy Awards, told the students being honored at last week's Coaches for Character's annual Advocates for Character and Education Awards (ACE Awards) of a young life that could have gone another way. His father was a gambler and routinely bet on various ballgames.

There were, as Costas described, hot and cold streaks, hardships and windfalls. The young Costas was given the role of sitting in the family car, checking the scores and bringing updates to his father, according to a Greenville News story by Nathaniel Cary.

Those experiences of hearing faraway voices, surely smoothing ones, traveling through radio waves captured Costas' imagination. He developed a love for sports and for broadcasting. His father died at the age of 42 from a heart attack, but the young Costas' life had been changed for the better.

"If I didn't have something beyond the narrow limits of my own youthful existence, if I didn't have something beyond what the world was then telling me what I was capable of, then I might not have wound up being as fortunate as I wound up being," Costas told the students.

Some remarkable students pass through the 33 middle and high schools in Greenville County each year, but most of them never enjoy accolades for catching the winning touchdown or being the school valedictorian. These students often persevere despite overwhelming problems, and they make a mark in their own quiet and often overlooked way.

These students are truly "unsung heroes" to use the term often used by Greg Blatt to describe the students who have been honored with ACE Awards. Blatt is founder and executive director of Coaches 4 Character, and last year ago his organization started the ACE Awards in partnership with Greenville County Schools.

"These are young people that do amazing things but never have been thanked or applauded for it," he said when announcing the creation of the awards. "Everybody needs hope to succeed and inspiration to keeping plugging along."

Profiles of the 66 annual recipients have been published for the past two years in The Greenville News and on GreenvilleOnline.com. The awards have gone to one boy and one girl from each of Greenville County's public midde and high schools. Nominations come from teachers, parents, church leaders and community partners.

Last year the school counselors at Berea Middle (Lynn Edwards) and Blue Ridge High School (Jessica Fevrin) described what the awards were all about. "This award is not a popularity contest, and does not focus on the highest GPA or an athletic accomplishment," they wrote at the time in a Greenville News op-ed.

"Many of the nominees have participated in community service and volunteer activities. Some of the nominees have overcome personal challenges in their young lives and strive to excel, even when the odds are against them," they wrote.

Here are snippets from just a few of the stories recently published in the newspaper:

• Scott Johnson is from Mauldin High School. His mother worked two to three jobs to provide for the family. He has taken care of his younger brother during that time, and is a member of FBLA and Interact, is very involved in Big Brothers Big Sisters of America, and for six years has mentored at-risk Greenville teens through an outrisk ministry at his church.

• Jadisja Jones of Bryson Middle School was diagnosed with respiratory arthritis at an early age. That didn't stop her and she has participated in gymnastics and tumbling. She is one of the organizers of Bryson Up Standers Club.

• James Zachary Snyder of Berea High School credits music with helping him be where he is today. He went through the Bridges to a Brighter Future program and Youth Leadership Greenville. He joined Berea High Marching Band in the seventh grade and has served as brass captain, horn line captain, co-drum major and band captain.

Sixty-three other middle and high school students have equally impressive records. It is wonderful to see their hard work and accomplishments recognized.

---
---
ACE Award Encourages Students to Give All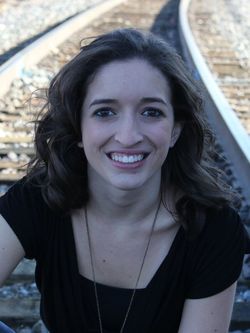 May 10, 2014

​Award has reminded me how much a couple of words can mean to somebody, and now I take time to make sure someone knows that I am proud of the things they have done and the person they have become.
At nine years old I was diagnosed with Fibrosarcoma, a type of cancer that no one had any information on. However, thankfully, it wasn't an aggressive kind and after two surgeries, I was free of cancer.
With that obstacle, though, came baggage. I was ashamed of my story. For years I didn't want anyone to know what had happened to me, so I denied it even to myself. My sophomore year of high school was when my life turned around.

My social studies teacher, Marcus Drango, was leading the Relay for Life team for Hillcrest High School and needed volunteers to help. Even though I was still embarrassed about my story, I decided to go to his co-captain to tell her about it. She immediately asked me to help out.

At the time I was willing to do anything, but I wanted to do it as a student, not a survivor. Throughout our fundraising drive, I grew to appreciate the concept of what it meant to be a survivor.

Beginning my junior year in high school, I was anxious to help. One day, Mr. Drango asked me if I would speak in front of the entire student body at our Relay for Life pep rally. My whole life as a survivor I didn't want anybody to know my story, and now I was about to tell it to every student and faculty member.

When I had to stop talking because my class of 2013 was chanting, "We love Jennifer", it was clear that I had officially beaten cancer. The doctors may have removed it when I was nine, but it had still consumed me until that moment.

I was nominated for the Coaches 4 Character ACE Award because of what I did for our Relay for Life team. I never knew that the blessings of that day would continue to follow me a year later. Anyone who knows me will tell you that I will do anything asked of me, and I never expect anything in return. I was an "unsung hero."

When my guidance counselor told me I was nominated, it was truly surreal. It showed that my hard work was noticed, even if it was only by one person that went the extra mile to say thank you. I asked over and over again who nominated me, but my counselor told me she had no idea.

As I was walking back to my seat after I received my ACE Award at the ceremony last May, I saw my Spanish teacher, Anna Cuyar. She congratulated me and told me that she was the one who nominated me. It meant so much to be surprised by her as I was being rewarded.

My experience was overwhelming and I wanted to share the joy I felt in being noticed. This year I decided to nominate a friend of mine. I have always looked up to her, as she truly is a prime example of an unsung hero. I nominated her because very few understand her personal struggles and the way she has overcome them. She deserves to be rewarded for everything she has accomplished and just like Mrs. Cuyar did for me, I asked to remain anonymous.

Winning the ACE Award has encouraged me to continue giving my all. Even though everyone may not see the amount of work and dedication I put into things, it only takes one person's recognition to feel appreciated. It has reminded me how much a couple of words can mean to somebody, and now I encourage myself to take the couple of minutes to make sure someone knows that I am proud of the things they have done and the person they have become.

I am at Greenville Tech now, studying to be an elementary school teacher. The Coaches 4 Character ACE Award has already opened my eyes to techniques I can use in my classroom one day to make sure that deserving students are recognized for the good things they do. If I can put a smile on a child's face by saying "thank you" for something they did, it is a great day.
​
Jennifer M. Slattery lives in Simpsonville, attends Greenville Tech and graduated from Hillcrest High School. She can be reached at slatteryjm@my.gvltec.edu.
---
---
Deserving Students Recognized for Character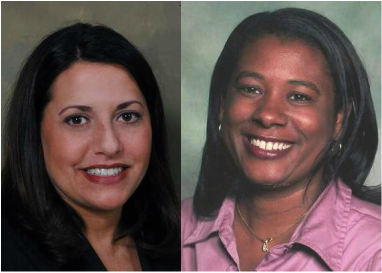 April 19, 2013
Each year approximately 71,000 students walk the halls of our Greenville County Schools, and many go about their school careers without ever being recognized with awards or accolades. That is about to change for 66 students in Greenville County Schools. Thanks to a partnership between Coaches 4 Character, a local nonprofit organization that emphasizes the importance of education and character development to at-risk students, and Greenville County Schools, two students from every middle and high school in Greenville County will be recognized for exhibiting strong character, academic effort and overcoming the challenges of life.
The first annual ACE Awards (Advocates for Character and Education) have been established to recognize these deserving students. Greg Blatt, executive director of Coaches 4 Character, has often referred to the recipients of the ACE Awards as "unsung heroes" because these students often go unnoticed in traditional accolades, yet they stand out with their personal character.
This school year, a process was established to gather nominations from the community for students in grades eight and 12. Nominations came in from teachers, parents, church leaders and community partners. Those individuals who submitted nominations described knowing these youth as an "honor" and a "privilege." They strongly believed that their nominee epitomized what the award represents, an advocate for character and education.
This award is not a popularity contest, and does not focus on the highest GPA or an athletic accomplishment. Nominees were described as hard working, respectful and exhibiting perseverance. They are considered to be a role model for their peers and an asset to the school and community. Frequently, the nominees were viewed as approaching each day with a smile and a willingness to help others; regularly befriending new students and helping others in the classroom.
Many of the nominees have participated in community service and volunteer activities. Some of the nominees have overcome personal challenges in their young lives and strive to excel, even when the odds are against them.
When students were notified that they had been nominated for the ACE Awards program and were asked to complete an ACE Awards application, many were surprised and wondered why. Once they understood the reason for the nomination and what the award exemplified, the smiles began to appear, yet they were still unsure.
After all, these "unsung heroes" are not often in the spotlight. However, what they have accomplished in their short lives is just as important as the class valedictorian or the highest scoring athlete. These students are living their lives in a positive manner, day in and day out, regardless of the obstacles they face. They approach each day with strength of character, and exhibit a genuineness that has impressed those around them.
The ACE Awards committee at each school had the difficult task of narrowing down the applications to one male and one female student. Each of the nominees was deserving of this special acknowledgment.
When the winners were notified, all of the students who had been nominated were truly happy for those who received the final award, and they realized that each of them had earned a special place in their community by their positive actions and behavior. The hope is that other students will catch the spirit of doing something good and honorable, and will then exhibit strong moral character and hard work, despite their circumstances.
In the weeks to come, the finalists for the ACE Awards from each Greenville County middle and high school will be profiled in
The Greenville News
. Then, on May 23, at the Kroc Center, all 66 students will be recognized at the ACE Awards ceremony. These students are special in so many ways. It is a privilege to spotlight them for truly being Advocates for Character and Education.
The old saying, "it takes a village to raise a child," has taken on new meaning. Community organizations and businesses have stepped up to provide what will be a memorable night for these special students and their families. The ACE Awards program is definitely something we can all be proud of because it honors the innate goodness in our youth.
-Written by Lynn Edwards and Jessica Fervin (
Greenvilleonline.com
)
---
---